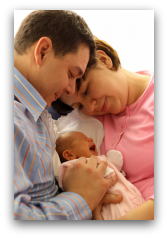 Heart to Heart is a Utah adoption agency that specializes in both private adoption and open adoption. Working with birthmothers that are experiencing unplanned pregnancies, they strive to match prospective adoptive parents with newborns.
Utah's adoption statistics help shed light on adoptions within the state.
While Utah's foster care system was designed to be a temporary solution for children, statistics show that the average length of stay in a foster care facility was more than two years. This process includes the child welfare agency conducting an assessment of the home and determining if a child may or may not return. If the child cannot return, the agency must then work as quickly as possible to find a permanent family. Heart to Heart does direct child placement, meaning that foster care services are never used.
Statistics show that older children are far less likely to be adopted than younger children. In fact, the average adoption age in Utah is just over five years old. Once a child is over the age of nine, the chances of him/her being adopted decreases dramatically.
Utah's agencies also report that a higher number of Native American, African American, Native Hawaiian, Hispanic and Pacific Islander children are waiting to be adopted when compared to their Caucasian counterparts. In fact, 68-percent of children that were adopted are Caucasian, while a mere three-percent are African American.
More than 40-percent of children placed in foster care leave to return home. Approximately 18-percent of children go on to live with guardians or with relatives and approximately 27-percent of children placed in foster care services were successfully adopted.
Tragically, in 2010 alone, 172 children "aged out" of their foster care programs, without ever having a permanent, legal family. Research suggests that these children are at a higher risk for future homelessness, depression, unemployment and substance abuse.
Of the children adopted in foster care, 19-percent were adopted by a non-relative, 35-percent by a relative and 46-percent by their foster family placements.
In 2007 and 2008, Utah saw a total of 2,118 private adoptions, 990 public adoptions and 420 inter-country adoptions. For these two years, the state saw a total of 3,528 adoptions.
In the state of Utah, legally married couples are eligible for adoption. Single adults who do not have a live-in adult partner may also be eligible. Additionally, the adoptive parent must be a minimum of 10 years older than the child he/she is requesting to adopt. Birthmothers are permitted to sign adoption paperwork as soon as 24 hours after the baby is born and birthfathers can sign anytime. In Utah, the consent to adopt is considered irrevocable and it takes approximately six months to finalize adoption paperwork.