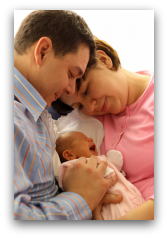 When a family makes the life changing decision to adopt a child, they are making a difference in not only the child's life, but also the birthmother's. How does an adoptive family, birthmother and adopted child benefit from adoption?
Adoptive Families – Some people go their entire lives assuming they will one day become parents. Then when the day comes where they are financially independent and ready to start a family, they suddenly hear the unfortunate news that they are infertile. This can be not only devastating, but also physically and emotionally trying. When a couple chooses to adopt a child, it ends their infertility cycle as they prepare to become parents. Experiencing parenthood is one of the greatest gifts a family can experience and without adoption, many people may never experience this magical reward.
Birthmother Benefits – When a woman learns she is unexpectedly pregnant, she can undergo a significant amount of stress. An unplanned pregnancy can halt education plans and long-term career goals, or cause undue stress with financial hardships based on this unexpected turn of events. If a woman is in high school, a teen pregnancy can forever alter her life. Without a strong support system, it may prove to be too difficult to become a parent at that time. However, adoption can benefit a birthmother, giving her a second chance to better herself with an education, fulfill her goals and allow a family that dreamed of becoming parents to experience their dreams and desires.
Adoptee Benefits – A number of famous celebrities are adopted, including Steve Jobs, Gerald Ford, Faith Hill, John Lennon and Dave Thomas. Indeed, one may wonder how their lives would have turned out had stable families not adopted them. When a family adopts a child, it helps increase their available opportunities and helps him/her have a meaningful and more fulfilling life. As adoptive parents are usually financially stable, this helps afford adopted children more opportunities in life that otherwise they may not have, including private education, private tutors, college tuition, expensive sporting opportunities, etc. Most importantly, an adopted child has two parents that are committed to one another, love each other and a birthmother that values life so much as to bestow and bless it upon someone else.
Heart to Heart, a Utah adoption agency, understands the advantages of adopting a child are endless. Whether adoption affords infertile parents with the opportunity to enjoy becoming parents or helps a birthmother continue fulfilling her long-term education goals, ultimately a child is placed in a loving and healthy home.
Two-parent income homes also provide a more stable environment for children, allowing them to grow and flourish; affording opportunities that may have been otherwise unavailable. Heart to Heart helps pregnant birthmothers with their expensive medical treatments, housing and provides financial stability, while she supports and maintains a growing, budding life that is a gift for a waiting adoptive family.