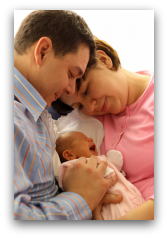 This post is part two of three and offers insightful information for prospective adoptive parents. Heart to Heart, a Utah adoption agency, strives to help make the adoption process simple for both adoptive parents and birthmothers.
Continued from the previous article, which highlights important information to consider before adopting a child:
If an adoptive parent has a history of psychiatric illnesses or a criminal history, this information is important to disclose up front. Honesty is very important when working with an adoption agency. Prospective adoptive parents should also consider whether an open or closed adoption is preferable. Open adoptions work directly with birthmothers to provide family placement and closed adoptions are typically done without birthmother interviews. (Additional information is provided below.)
When working with an adoption agency, it is important for prospective adoptive parents to inquire about the length of the adoption process, including when an adopted child can join his/her new family. Reputable agencies should be able to provide some type of timeframe, as this helps adoptive parents set up a room at home, obtain child care, inform family members, obtain medical insurance information, etc.
Adoptive parents should consider working with specialists in the adoption field. Adoption can be a long, complicated and tedious process. Working with experienced professionals can make the difference between a prospective adoptive family obtaining a child and ending up heartbroken and childless.
When prospective parents consider international adoptions, it is important for them to take into consideration cultural differences. Ethical U.S. agencies will not permit gifts, except those that are considered small and customary. If this is not handled properly, some countries may consider that prospective adoptive parents are trying to bribe them, which can result in an unsuccessful adoption.
When examining open adoptions, many prospective adoptive parents wonder if it is beneficial. More adoption agencies are reporting that open adoptions are increasing in popularity, as many birthparents want to be more involved in helping select a family for their unborn child. This can also be helpful for prospective adoptive parents, as they can learn more information about the child's background, medical history, genetic information, etc.
Open adoptions also help birthmothers feel more comfortable placing their unborn children with adoption agencies, because they feel as though they have a voice about their children's future home.
The third article in this series will discuss transracial and ethnic adoption options.