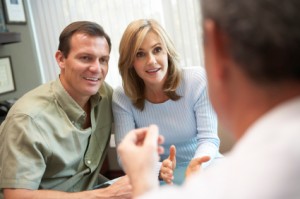 For those couples that want a biological child, one that shares both their common genes, but are unable to conceive without medical assistance, fertility treatment is an option. However, in a world where a number of children are born daily, those without homes waiting for them and only an orphanage in their futures, should more Americans take the financial risk of adopting versus the burden of cumbersome fertility treatments?
This is a debate, much like a ping-pong tournament, where both sides can volley back and forth with pros and cons. The bottom line is that a child's life is the most important decision to take into consideration when debating this subject.
Undergoing fertility treatment and adoption are both expensive and can have a serious financial impact upon a couple's financial situation. While a monetary value can never be placed on human life, parents never want to leverage themselves financially so they are in a position where they cannot afford to take care of a child.
Infertility can be a heart wrenching experience, as it is not only psychologically and physically exhausting, but it can be very expensive. While some couples become pregnant immediately with fertility treatment, others find themselves in hundreds of thousands of dollars of debt with no child to care for. Suddenly, couples become involved in the emotional turmoil of wanting a biological child so badly that they cannot afford their homes or lifestyles. Ultimately, they make more than simple sacrifices, working multiple jobs to pay endless medical bills and enduring maximum stress loads. Fertility treatment has zero guarantees. Whether someone spends $2,500 for a one-round course of fertility shots, or undergoes in-vitro treatment to the tune of $200,000, it ultimately remains in God's hands if a life will in fact bloom from this scientific evolution.
While adoption can also be a costly route to pursue, the U.S. tax code does allow some considerations and deductions for adopting a domestic child. Adoption can sometimes take a long period, as it can involve interviews, required parenting classes and home visits.
Only a couple can decide what choice is right for them and their family. Are they ready to raise a child that is not biologically theirs? Are they ready to pursue adopting a newborn or a toddler and not going through the personal birthing process?
Ironically, couples that are not successful with their fertility treatments typically experience a five-stage cycle, which includes:
Denial – Denying oneself the emotional ability to cry and recognize that having a biological child is not meant to be can be difficult for some prospective parents.
Anger – A person can experience anger towards other people that have biological children or friends that recently become pregnant.
Bargaining – Some couples experience a denial period where they believe if they begin pursuing adoption, they may incidentally become pregnant.
Sadness – A couple feels this stage when they realize that giving birth to a biological child is not nature's intention.
Acceptance – This occurs when a couple embraces and accepts what God has given them and sees adoption in a positive light.
Heart to Heart Adoption is a Utah adoption agency that supports abortion alternatives and private adoption. They strive to work with both birth parents and adoptive parents, believing a child's life is valuable and of the utmost priority.