What celebrities have recently adopted children, other than Brad and Angelina?
Quite a few celebrities have adopted children, other than Angelina Jolie and Brad Pitt who receive the lion's share of media coverage. Celebrities quietly adopt children, both domestically and from afar, and go about their merry lives endeavoring to create a lovable home for a child they now call their own.
Sandra Bullock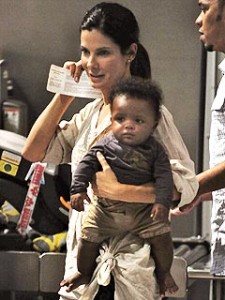 Since her breakthrough role as Speed's unwitting heroine, the Oscar winning American sweet heart Sandra Bullock, won over a vast audience and critics in career as an actress. Born in Washington, D.C., on July 26, 1964, Sandra was the elder daughter of a vocal coach and opera singer mom. She attended high school in Virginia, and was dubbed the person most likely to brighten your day.
With the same sunny nature Sandra announced on April 28, 2010 that she proceeded with plan to adopt a baby boy named Louis Bardo from New Orleans. Sandra and James had begun the adoption process 4 years earlier. The child had begun living with them in January 2010, but the Bullock's chose to keep the news private until after the Oscars in March 2010.
Ty Burrell
Known for his role in the ABC comedy Modern Family, for which he won the Primetime Emmy award for being the best supporting actor in a comedy series. He has played various roles in popular films suchas National treasure: Book Of Secrets and Muppets Most Wanted. Born in Grant Pass in southern Oregon on august 22, 1967, son to a teacher and a family therapist.
On March 18th 2010 right after the Oscars awards, Ty Burrell and his wife Holly had adopted a baby girl named Frances and then in March of 2012 the family adopted a second girl named Greta. Burrell describes the adoption as an inspiring rally point that bought him closer to his wife.
Hugh Jackman
Hugh Michael Jackman is an Australian actor and producer who is involved in film, musical theatre, and television. He is internationally recognized for his long running role as Wolverine in the X-men series. Jackson also hosted the 81st Academy awards in 2009.
Born to a Cambridge trained accountant on October 12th 1968 in Sydney. He met his wife Deborra-Lee Furness on the set of Australian TV series Correlli. After two miscarriages, Hugh and Deborra decided to adopt two children named Oscar Maximillian in 2000 and Ava Elliot in 2005.