Steve Jobs – Founder of Apple – Adoptee
The Steve Jobs story is in many ways typical of a classic adoption success. His biological parents were unmarried 23-year-old students at the University of Wisconsin at Madison. The father, Abdul Fattah Jandali, was a Syrian Muslim immigrant; his mother, Joanne Carole Schieble, a Swiss-American.
Reportedly under parental pressure and fearful of a scandal, Joanne went to San Francisco to have the baby and give him up for adoption at birth, February 24, 1955. (Ironically, Abdul Fattah and Joanne married in December of that year and had a second child, novelist Mona Simpson, with whom Jobs would have a close relationship as an adult).
His adoptive parents, Paul and Clara Jobs, weren't able to have children of their own after Clara had suffered an ectopic pregnancy and nine years into their marriage decided to adopt. But their adoption of Steve (Steven Paul as they officially named him) almost didn't happen.
Originally Joanne Schieble was insistent that her child had to be adopted by a college graduate couple and was hesitant because Clara Jobs had not graduated from college and Paul Jobs had only attended high school. She relented after they promised her that the child would definitely be encouraged and supported to attend college. A promise the Jobs' later kept—stretching their financial resources.
Paul, who worked as a mechanic and a carpenter, taught his son rudimentary electronics—a talent that served him well. Clara was an accountant who made sure her son could read before he started school.
According to Jobs' biographer, Walter Issacson, a defining childhood moment came when a playmate told Steve that, as he was adopted, it meant he was unwanted and abandoned. His adoptive parents handled the situation perfectly, assuring the devastated, tearful boy that he was not abandoned, but specifically chosen. Going forward Jobs never forgot that message. Just consider what his self-confidence and creative abilities gave to the world. Just imagine if Apple did not exist.
As an adult Jobs would always emphasize that Paul and Clara Jobs "were my parents 1,000 percent." Once asked by the New York Times what he would want to pass onto his children, Jobs paid his adoptive father the ultimate compliment saying, "Just to try to be as good a father to them as my father was to me. I think about that every day."
Dave Thomas – Founder of Wendy's Restaurant Chain – Adoptee
Dave Thomas, who was adopted when he was just six weeks old, became a passionate advocate for adoption in the final years of his life.
Dave Thomas never knew the young unmarried woman who was his mother and his adoptive mother, Auleva Thomas, died when he was five. While his father, Rex Thomas, traveled the country looking for work (this was the late 1930's) Dave Thomas lived with his grandmother, Millie Sinclair. He gave her the credit for teaching him the importance of service and treating others with respect.
As an adult Dave Thomas, who passed away in 2002, became a well-known and much-admired advocate for adoption. At the behest of President George H. W. Bush, Dave Thomas spearheaded a national public service campaign and encouraged other business leaders to offer adoption benefits to their employees. But that wasn't enough for him and, in 1992, he established the Dave Thomas Foundation for Adoption, an organization that so far has produced more than 4,000 finalized adoptions.
Dave Thomas, with his passion and energy, also deserves acknowledgment for leading the initiative to create an adoption stamp, issued by the U.S. Postal Service in 2000
Nelson Mandela – Former President of South Africa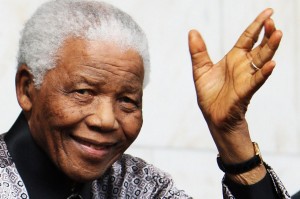 Nelson Mandela, father of modern South Africa, had the benefit of two fathers while growing up.
In 1927 when Mandela was nine years old his father, dying of lung disease, asked his friend Jongintaba, the Regent of the Tembu people, to take care of and educate his soon-to-be-orphaned son.
Jongintaba, who was also head of the Madiba clan, promptly agreed to "adopt" Mandela—perhaps because he felt indebted to Mandela's father for recommending him as Regent. So Mandela was raised as if he were Jongintaba's own son, a position akin to royalty. He also benefitted from the fact that in rural areas of South Africa there was a strong tradition of the extended family. While in jail, Mandela wrote, "It caters for all those who are descended from one ancestor and holds them together as one family."
Larry Ellison – C0-Founder of Oracle – Adoptee
Today he is the co-founder of Oracle and one of the wealthiest men in the world. But he comes from humble beginnings. Larry Ellison was born in Bronx, New York in 1944. His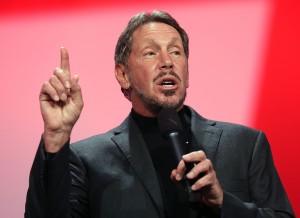 birth mother was 19-year-old unmarried Florence Spellman; his biological father was a US air force pilot.
When Larry was nine months old, he contracted pneumonia and his mother realized that she could not properly take care of him. She asked her uncle and aunt from Chicago, Louie and Lillian Spellman to adopt him—and they did. He never knew his biological father and did not meet his biological mother again until he was 48.
"Babe" Ruth – Professional Baseball Hall of Famer – Adoptee
As a child George Herman Ruth, Jr. the eldest of eight children born to a Baltimore bartender and his wife, Kate, was, to quote one report, "an energetic troublemaker." So much so that at the age of seven, his parents have custody of him to the monks who ran St. Mary's Industrial School for Boys, a combination reform school and orphanage.
Fortunately, one monk, Brother Mathias, became a father figure for Ruth, and got him to channel his energy into baseball. When he was 18 Ruth's talent was discovered by Jack Dunn, a scout and owner of the Baltimore Orioles. Dunn subsequently became Ruth's legal guardian so the underage baseball player could legally be signed up for the team. We all know what happened next!
Jesse Jackson – Civil Rights Leader – Adoptee
Civil rights leader Jesse Jackson's mother, Helen Burns, was just 16 years old when she gave birth to him in 1941. The father was Helen's neighbor in Greenville, South Carolina,
boxing champ Noah Robinson, Sr. Robinson, however, was already married.
Nevertheless, Burns kept Jesse, and a year later married Charles Jackson, who adopted Jesse as his own son. Jesse learned about his birth father's identity when he was seven years old. Taunted by other kids because of his out-of-wedlock birth, Jackson said that those experiences motivated him to succeed in life.
He took the last name of his stepfather but maintained a close relationship with his birth father and considered both to be his father. In fact, in a New York Times, he knocked down reports that he resented his childhood, saying, "People say I had a father deficit when in truth I had a father surplus."
Summary
From high tech revolutionaries to civil rights revolutionaries…from business leaders to sports stars…the world is full of high achievers who were adopted into good homes.